Next Level: Bookability Meets Connectivity
Industria y tendencias
How operators of tours, activities & attractions can develop and further leverage their reach thanks to connectivity.
Online purchasing is now so ingrained in our daily lives that there is hardly anyone who has not bought shoes, music, movies or booked holidays on the Internet. As a result, selling products and services online is now part of the strategy of many companies – even those strongly focused on selling face-to-face are connected to an online service at some point within their process. In other words, being available on the web is the new standard – especially in our common industry of tours, activities & attractions.
With this comes a fundamental shift in perspective for business development. Thus, the online bookability of experiences is no longer optional, something that can be delayed or postponed to the future, but a "must" right now – the baseline for a new future: ticket sales in a networked world.
And the answer to such a future is connectivity.
In order to properly introduce this new "buzzword" in the best possible way, we have summarized the most important points for you in this blog post.


What is connectivity?
By "connectivity" we mean the breadth of sales channels with which a business is connected, as well as the performance of those connections. Strong connectivity forms a network:
Imagine each connected sales channel as a thread. The more threads, the stronger they are, and the better inter-woven they are with your business, the stronger a network you build and the more sustainable your business will become.
Strong connectivity is ultimately reflected in the seamlessness of a customers' experience during all phases of your business, from booking to admission.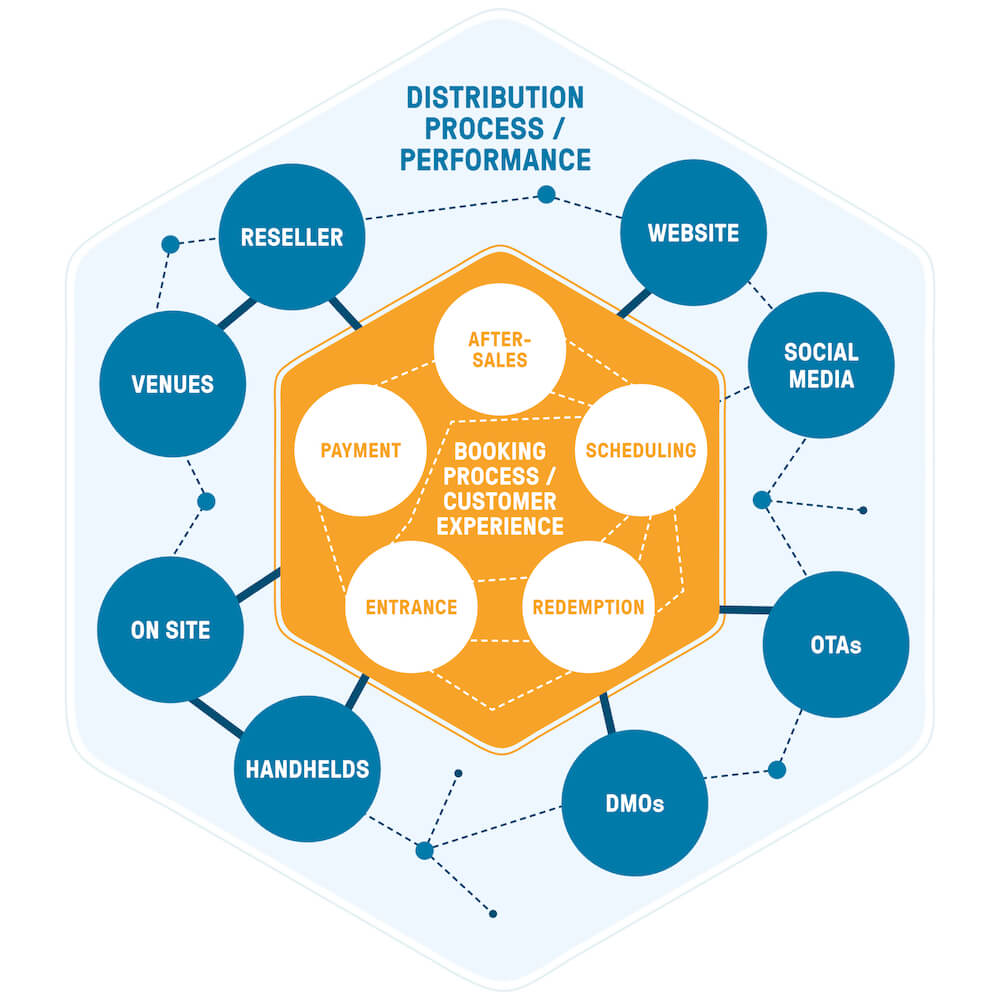 Connection all the way to the customer: Connectivity in Tours, Activities & Attractions.
If you want to sell something, you have to create a connection between your offer and the customer. In the past, this was primarily achieved through a direct, face-to-face encounter. While this type of connection remains possible, it is either increasingly receding into the background in the sales process or also employs some kind of connectivity in internal operations. However, for example in the area of tours, activities & attractions, customers are connected to offers by completely different means, via different channels or on a wide variety of platforms.
Direct customer connection
e.g. face-to-face, by telephone or e-mail
characterized by direct contact and personal feedback
Manual booking processing
Self-Owned channels
e.g. company homepage, social media profiles, but also out-of-home media such as posters and flyers
Predominantly used to publicize the offer
Booking via own store website
External channels
e.g. OTAs such as GetYourGuide, Tripadvisor or distribution channels like Google Things To Do, cooperating travel agencies and tourist information offices, regional marketing initiatives (DMOs)
Mainly automated booking processing
Customer contact across all channels: Plug-and-play partner networks as a competitive advantage
In the course of digitalization, especially the digitalization push 2020/21, many providers of tours, activities & attractions were focused on establishing their online bookability. With the help of booking systems / booking software, they have managed to strengthen their own sales channels in particular. This has created a new market situation in which the now digitally available experience offers are fighting an online battle for attention or reach.
And this is exactly where many booking solutions reach their limits due to missing connections to important sales channels, while bookingkit, for example, provides its customers with an optimal starting position through the further development of its connectivity as well as the continuous expansion of its partner network.
Seven key competitive advantages of high connectivity though booking systems
Increased reach by connecting to the most important channels (or as many sales channels as possible)
More targeted sales directly addressing a specific target groupvia connected special-interest or niche channels
Addressing new target groups thanks to regional and/or international presence
High degree of automation with availabilities synchronized in real-time across all sales channels
Comprehensive overview through tracking and reporting on each individual booking
Optimization of your available spots and / or resources through the automatic redistribution of contingents between channels
The ability to try out new opportunities with limited risks or costs

Reach and conversion: The importance of quantity and quality in connections
More channels, higher reach
Simply put, each connected sales channel increases its own reach – some even exponentially. It's therefore worth taking a deeper look at the true potential of channels, as one should only seek to grow their reach within an audience that is directly relevant to them. Also the margin / commission is crucial for an optimal balance between the cost of customer acquisition and subsequent revenue.
Better connection, significantly higher purchase rate
In addition to the sheer number of sales channels one activates, the quality of those connections plays a decisive role in how well they will perform. Only a stable, reliable and high-performance connection with the respective sales partner ensures that the boost in reach also leads to actual bookings. This has two significant effects:
On the one hand, a very good connection transmits all relevant data needed for conversions, such as descriptions, images, prices and availabilities. On the other hand, the sales channels themselves grant their top booking systems with some key benefits, like for example improved visibility for their listings or priority customer service.

Reach by click: Channel Manager as part of modern booking solutions
The bookingkit Channel Manager is the gateway to a constantly growing sales network and offers an overview of all sales channels, including description, contract type, commission conditions and the possibility of direct activation. This allows operators of tours, activities & attractions to customize their distribution strategy and select the most appropriate channels.
bookingkit has always invested a significant part of its resources in expanding its partner network and consistently integrating new sales channels into the Channel Manager. This way we ensure five crucial things:
A continuous increase of potential reach for our customers
The broadest possible selection of revenue streams for our customers
The ability to easily test or discover new niche audiences and buyer profiles
The ability to independently determine one's own sales channel mix according to performance and priorities
Multiple opportunities for strategic development and/or scaling of experience offers
Our strongest partners at a glance:
Tiqets, GetYourGuide, Viator, Musement, Google, headout
Examples of special interest partners:
Amadeus Sherpa, Outdooractive, Jollydays, erlebnisgeschenke, kochschule.de
Examples for regional partners:
Alentour, berlin.de, leipzig.travel, Come to Paris, Sauerland Tourismus
Premium partnerships: Increased professionalization of booking systems
Today, it is no longer enough to simply be connected via a digital network This is because the performance of connectivity can now be easily measured and benchmarked, and has therefore become the second most important basis for success – both for sales channels and operators alike.
But connections of that sort are like living organisms: if they are not well-managed after an initial connection, they will eventually decline. If they get managed well however, they reveal a lot of potential and develop a lasting impact.
Online marketplaces have started to capitalize on the growing importance of high quality connectivity and to evaluate operators or their booking systems accordingly, even awarding them with special statuses or badges. The result has created an incentive, as well as a future requirement, to invest in connectivity in order to be in the best possible position within marketplaces.
Top 3 features of high quality connectivity
High-performance booking processing at any time and across multiple devices
Smooth, reliable synchronization of all availabilities
Complete, up-to-date display of all relevant experience descriptions and data
The higher the status, the greater the potential turnover

GetYourGuide puts special emphasis on technical performance, a modern interface and extensive integration processes. Viator / Tripadvisor also rates the seamless booking experience along firmly-defined quality criteria.
bookingkit is one of only two reservation technologies worldwide to have been awarded top quality scores, the best "connectivity partner status," from both GetYourGuide and Viator, two of the largest international online marketplaces for tours, activities & attractions.
Advanced connectivity: After Sales, Tools, Wiederverkäufer und der Anschluss der realen Welt
Handhelds, turnstiles and access systems
Whether thinking of theme parks or independent tour guides – handhelds, turnstiles and all common access systems also form part of an operator's connectivity in how seamlessly these tools integrate with the whole booking, redemption and entrance process. This type of interconnection also allows detailed evaluation and control of, for example, capacity, rush hours and audience flow.
Preferred software tools
With great connectivity comes a lot of freedom and opportunity to make the most of your preferred digital toolkit. Instead of forcing our users into a one-size-fits-all solution, we at bookingkit prefer to offer our clients the possibility to seamlessly connect external specialized tools and software. In other words, connectivity promotes specialization and increases efficiency.
Reselling of offers
Well over half of all tickets in the Tours, Activities & Attractions industry are sold through resellers such as hotels, tourist offices and travel agencies. By linking to the bookingkit Reach sales platform, these resellers will, in future, be able to access all experiences offered via bookingkit, book them directly and print the ticket immediately. The entire process, including commissioning, invoicing and documentation, is done digitally and automatically.
Manual bookings and payment at POS
A cohesive connectivity concept also takes into consideration bookings at point-of-sale. Although the share of tickets sold via this "sales channel" is steadily decreasing, the data associated to these bookings is an important part of the complete picture of company performance. Therefore, a well-connected booking system should offer the following options:
Manual booking entry, ideally via handhelds.
Payment in cash, ideally via a POS system such as SumUp
Printing function for analog tickets and vouchers
The epitome of connectivity: Connecting to the biggest traffic driver: Google
Google Search remains one of the most important sources of booking traffic in the Tours, Activities & Attractions sector. Since launching the new Google Things To Do, it has become even more critical for both operators and online sales channels to have a clear and streamlined booking infrastructure that ensures structured submission of the required data to the search engine.
Advantages of marketing via Google Things To Do with the help of bookingkit
Increase your visibility in the newly created Google search for experiences
Reach millions of new potential customers worldwide
Boost both your direct bookings and those via channels, unified in one booking system
Optimize your ranking through structured information transfer to Google
Influencing the ranking by price, product quality and conversion rates
Sell both tickets & vouchers
Process payments in all currencies
Learn more about bookingkit and Google Things To Do.
Plug and play: Connecting operators and DMOs
Destination marketing organizations (DMOs) form an important category among sales channels. These want to market the diversity of their respective destination, i.e. a city or a region, along with all the experiences which can be enjoyed there, without having to integrate numerous systems and interfaces to each operator.
To help DMOs achieve this goal, bookingkit takes two approaches:
bookingkit offers its vast inventory of experiences to DMOs, such as recently with Leipzig, Nuremberg, Stuttgart and the Hochschwarzwald.
At the same time, bookingkit has managed to establish a plug-and-play connection to almost all major software systems which are commonly used by DMOs,covering numerous applications like feratel, neusta, Land in Sicht or HRS DS, among others.

But one connection is still missing… …The one to YOUR experience!
Decide now for the best-connected booking solution for Tours, Activities & Attractions in Europe and benefit from many wide-reaching sales channels, a stable & robust connection between them, and a lean, smooth booking process!
Contact us now & arrange your individual demo
¿Quieres aprender más sobre cómo bookingkit puede ayudarte a impulsar las conversiones y conseguir más reservas en tu sitio web?
Entonces pide una demo gratuita con nuestro equipo.