Brand New Google Things To Do: What Experience Operators Need to Know
Industry & Trends
With the start of Google Things To Do and the announced end of Reserve with Google, the direct bookability of tours, activities and attractions via Google Search and Google Maps will gradually disappear and probably fade out completely in 2021. This total reconsideration of their approach to tours & activities follows a general trend, the likes of what Google built for the Hotels sector, and includes important innovations for both suppliers and Online Travel Agencies (OTAs).
Reserve with Google will be replaced by Google Things To Do, a completely new presentation of search results, one that immediately shows customers an overview of the most important information, such as operator, rating and price, all via a new user interface, and only then lists classic search results below – albeit without the direct booking function previously known from Reserve with Google.
This shift regarding their treatment of tours and activities clearly brings it closer to Google's core business, namely putting searchability & findability front and center. In other words, Google is choosing to focus on what it does best, and in so doing is leaving the technical effort behind the booking and payment to its specialized technology partners.
Consequently, it will be even more important for both operators and online marketing platforms to have a sturdy and streamlined booking infrastructure.
In addition, for operators of tours, activities and attractions, it will also now be particularly important not only to strive for an improved ranking via search engine optimization (SEO), but also to find themselves within the newly added Google Things To Do information section above those search results.
Briefly summarized:
Google search for leisure offers now shows new important section upfront
Classic search results are listed below
Direct bookability via Reserve with Google is replaced by a link to your reservation page and / or your OTA listing

With Things To Do Google remains the most important booking source
First of all, it should be noted that a significant proportion – and, depending on the industry, the largest portion – of online experience bookings originates from Google search. This makes any change in how Google behaves regarding the market of tours, activities & attractions very important for operators to understand regardless. This includes understanding Google's own ad-driven business model, as this will most likely have an impact on the visibility of operators' own offers over time.
Thus, it can be assumed that the optimization of one's own findability through common SEO measures will probably lose additional importance over time in favor of a paid listing. When such changes were made to search results in other sectors (i.e. hotels), the impact was a 30 to 50 percent decrease in organic visibility.


In a nutshell:
Google search remains one of the most important sources of booking traffic
Tour & activity providers should understand Google's approach as well as its business model
Search engine optimization will become less important over time
Listing via ad placement will most likely gain importance
How can operators leverage Google Things To Do?
The basic prerequisite for successful marketing via Google Things To Do is feeding correctly-structured data about your offers to the search engine. This is then used to generate a dedicated checkout page on which the actual booking will take place. To achieve this, you have two main options:
Advertise your tour, activity or attraction via an OTA which is partnered with Google. These will take over both the technical booking processing and the conversion optimization of their offer page and, in the future, also the placement of advertising – at the cost of a considerable commission, of course. Note: Marketing across multiple online travel agencies, including the synchronization of information and availabilities, is possible via the bookingkit Channel Manager with a single mouse click.
Use a compatible booking system, which automatically generates a booking page according to Google's strict specifications. The data transfer to Google is done behind the scenes directly via technical interface: bookingkit provides all relevant information about operators which are matched to certain search terms as well as their corresponding experience offers. Google itself will then arrange these results according to its own criteria, such as quality and price.
Important conclusion: Choosing a booking system wisely will be very important, as you need to ensure that their technical setup is at least up to par with the technical requirements of the largest OTAs. Only then can you ensure an equal chance of having your result displayed at the top of the search results.
In some circumstances, a hybrid strategy makes sense, where your offer is listed "multiple times" – organically as well as via your booking system and connected marketing platforms.
But there are two other equally important factors for optimizing marketing via Google Search:
Tip 1: If you want your bookings being generated via Google to primarily come through your booking system, e.g. to prevent potential customers from coming into contact with other offers or to save commission fees, then the content about your experience offer in your booking system or on your website must be very well maintained. Only then do you have a better chance in ranking highly.
Tip 2: As previously mentioned, both price and ratings will be criteria considered by Google's algorithm when determining ranking order for results. Therefore, now is the time to carefully maintain and update your Google MyBusiness profile, especially keeping an eye on the amount of your reviews and your average rating, as they will be displayed in the upper area of the search and will therefore be key in getting clicks – more so than SEO!
Advantages of marketing via the new Google Things To Do with the help of bookingkit
Visibility in the newly created Google search for attractions / experiences
Additional attention and reach of millions worldwide
Convenient and fast online booking via the used booking system or directly via bookingkit channel manager OTA partners
Optimized ranking through structured data transfer to Google
Influencing the ranking by price, product quality and conversion rates
Direct sale of vouchers
Processing bookings in all currencies
bookingkit and Google – in cooperation since 2019
Through more than two years of intensive cooperation with Google, we have already laid the most important foundations for the successful marketing of tours, activities & attractions via Google Search and Google Maps as part of Reserve with Google. Therefore, bookingkit will of course support Google's new approach – not only technologically, e.g. via Google's Things To Do beta program, but also out of conviction, as their renewed commitment to the experience sector brings enormous potential for the online booking of any tours, activities and attractions.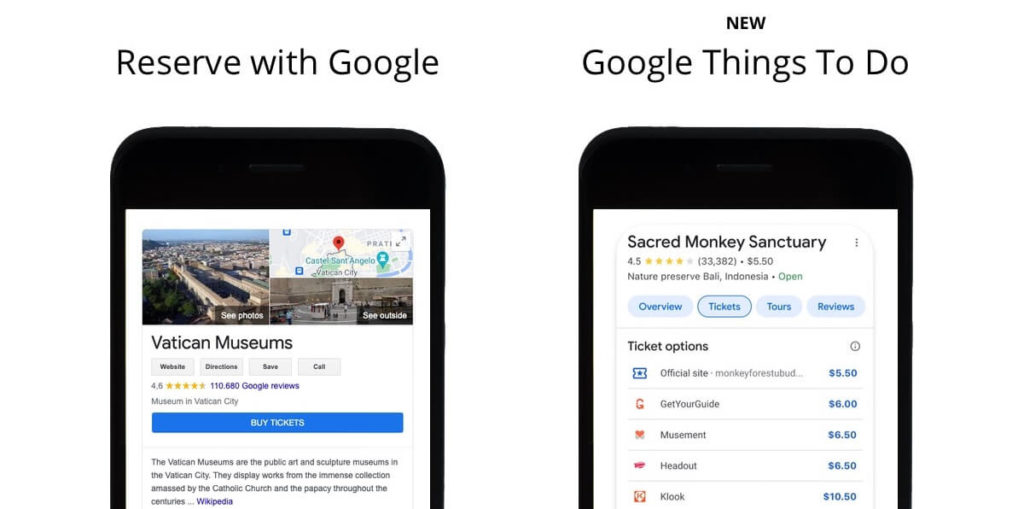 Review of Reserve with Google
With the possibility of making tours, activities and attractions directly bookable via Google Search or in Google Maps, Reserve with Google was, and is still, an ideal addition for operators, as even smaller providers can benefit from the popularity and reach of Google tools. This option was made available via the use of online travel agencies (OTAs) or an online booking system, and bookingkit was one of the first booking solutions in Europe to integrate Reserve with Google, in addition to many OTA marketing partners.
Previous advantages of Reserve with Google at a glance:
Additional online booking option directly through Google Search or Google Maps.
Most convenient and fastest way to book online, including payment processing
Automatic synchronization of information and availabilities
No additional costs or fees
Reach of millions worldwide

Want to learn more about how bookingkit can help you drive conversions and get more bookings on your website?
Then get your free demo now.