Main features of our booking calendar:
Direct overview

All upcoming activities clearly displayed and all important information at a glance

Real-time display of bookings

The calendar displays any new bookings immediately

Concise information

Number of participants, capacities and payment status behind each appointment

Free capacities

Colored markings (i.e. a heatmap) show the current capacity utilization

Synchronization with marketing portals

Appointments booked via external channels are automatically displayed & centralized

Interface to external calendars

Automatic synchronization with Google, Apple and Outlook calendars, among others
Your perfect starting point for actionable insights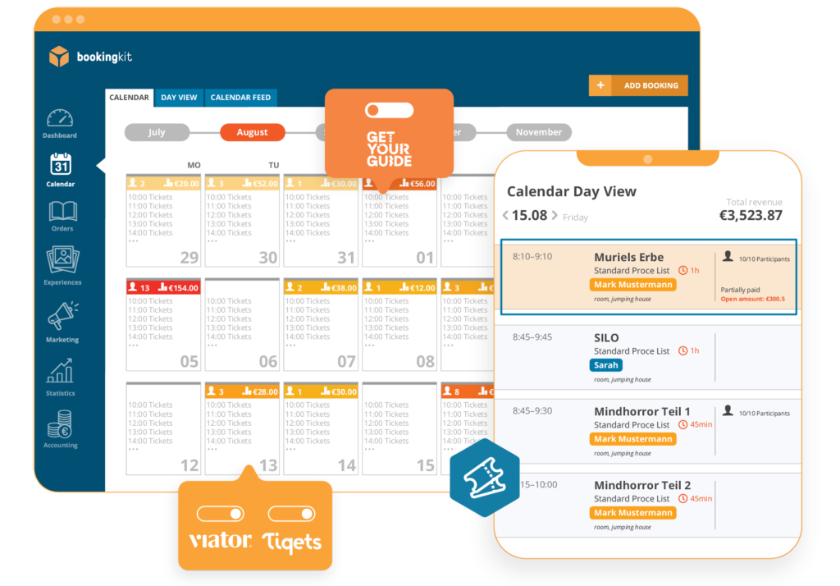 One single digital calendar
By synchronizing bookings from all your channels, be it from your website, connected marketing partners and resellers with the calendar systems of your computer and mobile devices, you will only need one well-maintained calendar, and don't risk any manual error or doubled appointments.
Targeted resource planning
With the help of comprehensive information on the popularity of your experience, you can optimally plan your available resources and thus reduce your running costs.
Active utilization control
Thanks to a constant overview or your free capacity, you can act in time and fill up remaining slots, for example, through targeted marketing campaigns or discount promotions, thus allowing you to easily and efficiently optimize sales & marketing efforts.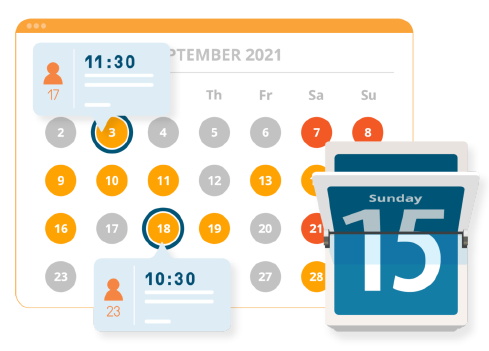 Gain both a macro and micro view
The monthly calendar view grants quick and direct access to the most important details for your monthly planning, while drilling down to the day view will show you booked participants, the maximum number of slots available and the total daily turnover.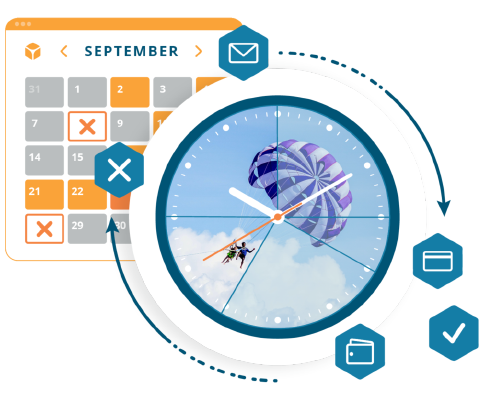 Easily make adjustments to individual bookings
Viewing individual bookings allows you to manually:
Move appointments

Delete appointments

Change payment statuses

Manually add participants

Send emails to all participants

Generate participant lists
Explore more bookingkit features
Explore more bookingkit features

Checkout Widget

Drive more bookings

Conversion-optimized

SEO-optimized

Simple on-page integration

See more >

IT Security & Service

German engineering

Internationally compliant

Highest availability & standards

Data security & encryption

See more >

Resource Management

Automatic resource allocation

Linked to available slots

Avoid overbooking

Diversify your offer

See more >

bookingkit Reach

Digitize your reseller network

Free for resellers

Grow your customer base

No installation required

See more >

Marketing Channels

All channels at your fingertips

Select your preferred channels

Centrally synchronize availabilities 

Choose which experiences to promote

See more >