Online Booking System – All features at a glance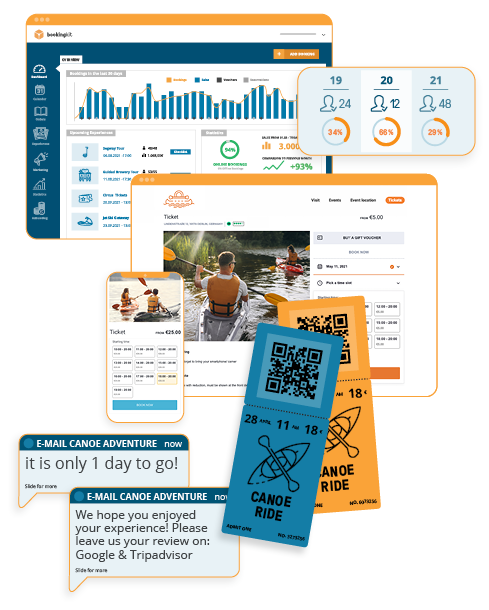 Best in test: Online booking system and booking software
In this section, we'll explain what service providers should look for in an online booking system or booking software, so customers can easily make online reservations on websites, social media platforms and booking portals.
Ten to fifteen years ago, customers had to show up at a travel agency or make a phone call in order to book flights and hotel stays. Nowadays, most travel arrangements are made online and service providers in all industries have recognised the advantages of hassle-free online reservation management. After all, the ability to book services online doesn't only benefit businesses, but also customers.
The need for reliable booking systems for small businesses is therefore steadily increasing. An online booking-system allows customers to schedule their next appointment at the barber's, make a reservation at their favourite restaurant, or book a canoe ride – and all that, comfortably from their personal computer or smartphone.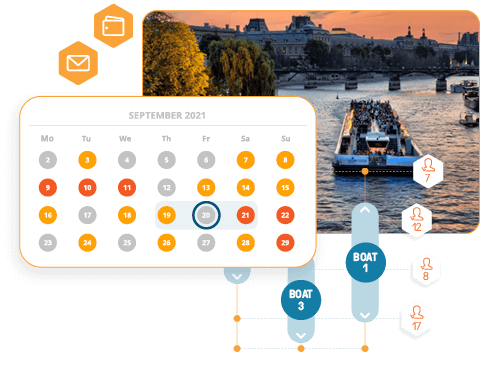 Meanwhile, each industry has its own requirements when it comes to the right booking software. For example, businesses that provide mountain bike tours offer tickets for fixed dates only. Therefore, a calendar containing the available dates within a fixed schedule is an essential feature within their specific website booking system. However, landlords offering vacation homes only need a calendar that indicates the time period in which the offered home is available.
The majority of booking management system providers are specialised in booking software that is tailored to each industry. Other website online booking systems are multi-functional and cater to several sectors. Such offers range from simple WordPress plugins to more complex reservation software that includes management modules for dates or participants. Regardless of their industry-specific requirements, service providers should always pay attention to some crucial features before settling on a booking-system.
Benefits of online booking through customised booking software
Efficiency: you have more time & happier customers!

With 30% of all your customers booking online, your day-to-day becomes less hectic

40% of your clients prefer booking outside of your business hours

5 times less cancellations significantly improve your occupancy rate

Planning reliability thanks to online payments – you don't have to deal with "No-Shows"

Users benefit from the live availability display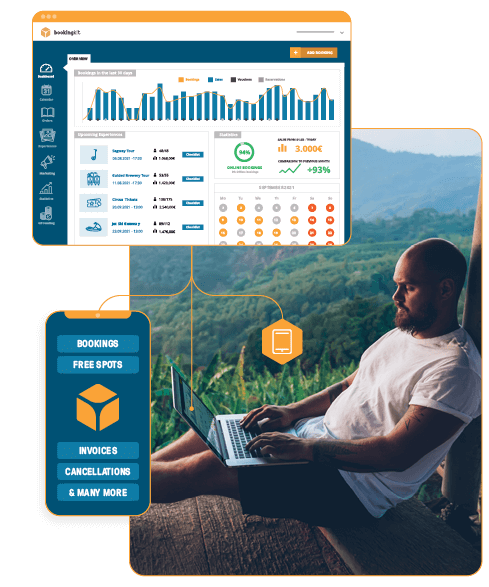 Software-as-a-Service booking solution or booking software installed on your computer?
Nowadays, touristic operators don't spend their time working at a stationary computer, but have to manage their business on the go via smartphones and tablets. With a Cloud-based booking management system, you can access your online booking software from anywhere in the world, while taking advantage of automatic updates.
This web-based booking software is also known as Software-as-a-Service (SaaS), meaning that the software and IT infrastructure are offered and maintained by an external provider. Thus, an online booking system for businesses can be a time-saving and cost-effective alternative, especially for small businesses that don't have the capacity to employ a custom-programmed booking tool. And more often than not, Software-as-a-Service solutions are offered free of charge. The website administrator or owner pays a small commission fee for each online reservation that is made through the website booking system. This means you don't have any fixed costs and only pay whenever your clients are paying you.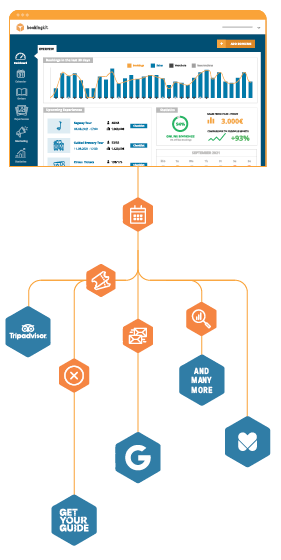 Custom-programmed booking tool or versatile online booking service?
The all-in-one solution booking-systems have several benefits:
1. They help you manage all your online bookings and reservations thanks to practical booking software features. For example: Booking confirmations, cancellations and bills are sent automatically.
2. Professional booking tools accept online payments by working with renowned partners like PayPal, Visa Card, Mastercard or EC direct debit. Normally, payment service providers charge for each online payment – these costs are already covered by the SaaS charge-per-booking fee.
3. Professional booking engines have stood the test of time and are constantly improved through customer feedback. This ensures the intuitive use of the booking tool's user interface. In contrast, programming your own online booking-system with PHP and MySQL costs a lot of time and effort.
4. Sooner or later, users require customer support when running into problems with a software. Booking software that was custom-programmed by an individual usually doesn't come with the same kind of support that a professional booking-systems provider can offer. Direct phone support and online help desks provide instant trouble shooting and make sure that you receive the help that you need.
Tip: When you test a booking software, always check out the support features!
5. Professional online booking software makes sure that your offers show up on booking portals like TripAdvisor, Viator or Eventim Guide. This allows you to reach a broad range of new customers with no effort at all. Tip: Make sure that the provider of your booking-system is independent and not exclusively connected to a specific booking portal.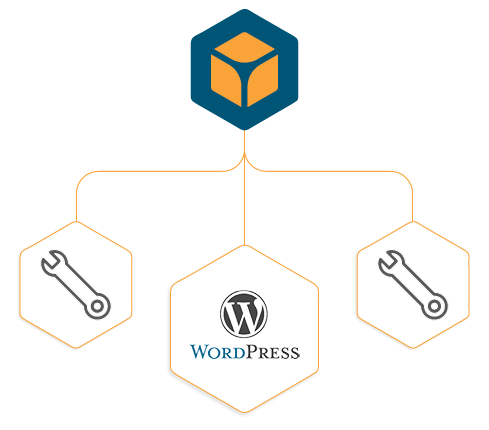 Online booking software for different CMS systems
CMS (Content Management Systems) offer a relatively simple way to build and maintain a website. The most popular providers are WordPress, Jimdo, Joomla and Typo3 (Open Source CMS [Content Management Systems]).
Each CMS can be adjusted through numerous plugins (which are extensions to the basic version of your CMS). Specific plugins allow you to embed an online booking tools into your website.
Professional SaaS booking software providers also develop plugins that you can easily integrate. Bookingkit, for example, offers a plugin for WordPress. Thus, you can incorporate both the booking tool and the online booking calendar directly through the WordPress back-end and then manage your dates in WordPress through our booking software. Get the plugin here.

Booking software: The most important features
Real-time online booking: Your customers can see all available dates and make an instant reservation. As soon as a date is no longer available, a high-performance online booking system blocks it from any other reservation requests.
Language & currency: Many providers, especially in the tourism and leisure activity sectors, are interested in reaching international customers. Therefore, it's extremely important that everyone can make a reservation in English, or even better in their own language and pay in their own currency. Ideally, the online booking system recognises the customer's location through their IP address and adjusts the language setting.
Flexible payment options: You should be able to choose which payment options (PayPal, credit cards, EC direct debit, payment on site etc.) you want to offer to your customers. Tip: PayPal is a safe and simple online payment solution and popular among most customers. Thus, PayPal should always be a payment option in any professional online booking system.
Customisation: A customisable booking software allows you to visually integrate the booking tools form into your website, so it goes with your brand identity – you should always be able to pick your own colours and fonts and use your own .css file. Moreover, you should have the option to enter your own texts and create additional fields within your reservation form.
Collecting customer information: You decide which specific information you need from your customers. Client data contains valuable insight for a business and is often underestimated. A professional booking software provider gives you a clear picture when it comes to your customers' data profile, so you can adjust your marketing strategies accordingly.
Compatible with mobile devices: More and more customers browse the internet on their smartphones and tablets. Therefore, it's important that your booking websites are responsive and automatically adapt to different screen sizes. A high-quality booking software is designed to work on all online devices.
More revenue with promo codes: All customers love coupons. That's why your booking tool should always have a feature that allows users to apply promo codes. With a first-class online booking software, you can easily manage your promotional offers. Additionally, you should be able to import coupons from external coupon portals such as Groupon, so your customers can use them when booking your services online.
SEO optimisation: Ideally, your website's booking software is optimised for search engines, so your services can be found by all potential customers through Google & Co.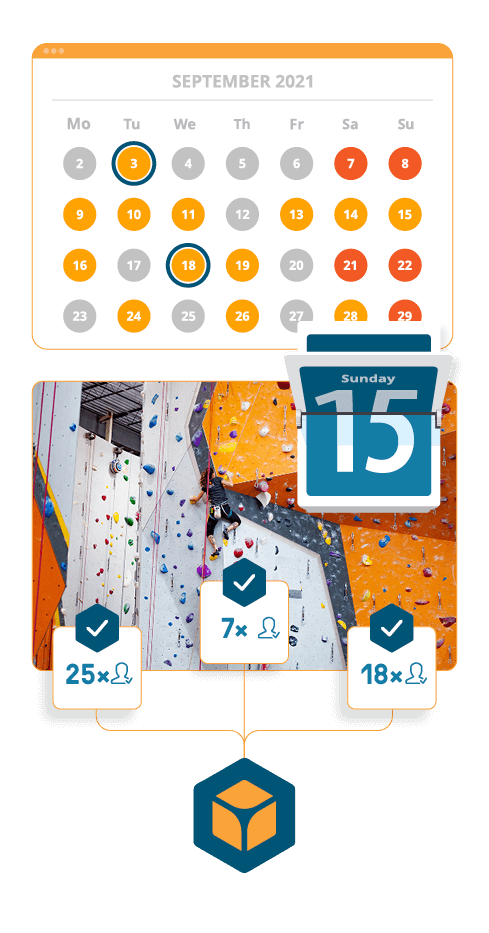 Availability displays and booking calendars: The most important features
Displaying your availability in an organised way: Your booking software makes sure that your availability calendar is always up-to-date.
Time slot booking systems: Instantly updated time slot tickets allow your customers to choose the
perfect time to attend any event or activity. This ensures that double bookings for specific
appointments or attendance times are always avoided. In fact, an advanced time slot reservation
system helps you easily manage all kinds of events where days are split over defined intervals.
Better planning due to intelligent features: An intelligent digital booking system provides you with all important data, including date, time, participant and payment information. Highlighted areas usually indicate available time slots. Your booking software should let you have full control over other factors, such as adjusting the price depending on the number of participants. The information provided through the booking tool is essential for successful planning.
Interfaces: An exceptional booking software synchronises your booking calendar with other digital calendars, such as Google Calendar or Apple Calendar, so that you'll never lose track. Professional booking-systems also link your offer to other booking platforms and automatically add off-site reservations to your booking calendar.
The right calendar: Your booking-system should offer a type of calendar that suits your offered service. Here are the most commonly used calendars:
Event Calendar: Booking tickets for fixed dates (e.g. tours, classes, events)
Availability Calendar for daily rental offers (e.g. vacation home, bed-and-breakfast)
Availability Calendar for specific periods (e.g. bicycle rental, climbing passes)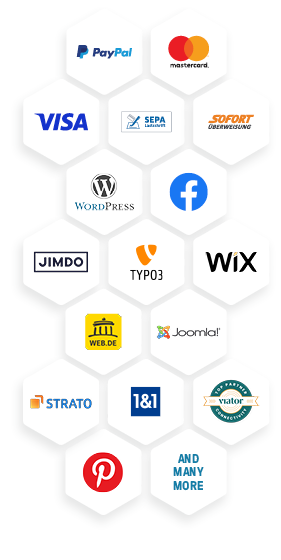 Booking systems & online booking software: Most important interfaces
Payment options: PayPal, EC direct debit, Visa, Mastercard, purchase on invoice, immediate transfer, payment on site
CMS Provider: WordPress, Joomla, Jimdo, Strato, WIX, Web.de, Typo3, 1&1 MyWebsite
Booking platforms: e.g. TripAdvisor, Eventim Guide, Viator, Jollydays
Online calendar/Booking calendar: Apple, Google, Outlook
Social Commerce: Facebook, Twitter, Pinterest, Youtube
Mobile Ticketing-Apps: Passbook, PassWallet, Apple Watch, QR-Code
Analyse-Tools: Google Analytics
Open API for complex websites
Interface to the accounting-system