The Booking System for Zoos & Aquariums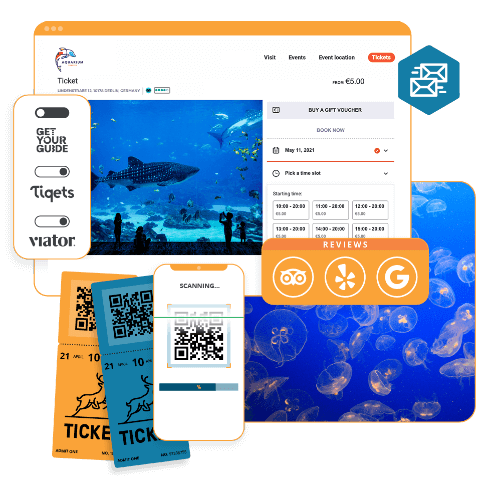 The booking system for expert capacity management
Your central booking management system
Keeping a steady flow of visitors is ideal, but easier said than done. Especially capacity management and having a close eye on your maximum allowed visitors is key when it comes to safety reasons. So how can you balance a reduced capacity and still generate revenue?
bookingkit has the features you need to answer this question, and to make sure you're getting the most out of every ticket purchased or booked.
Our Clients
Why your business needs bookingkit
With us you get more than just a service.
Manage capacity
Encourage pre-booking by offering a streamlined and intuitive online booking process via your own website and sales channels.
Leverage sales channels
Easily manage your connected channels & identify the best performing ones so you can further optimize ticket sales.
Expand your offer
You offer simple entries, but also concerts, guided tours, etc. – all of these can be selected, bundled or added in the checkout process.
Maximize your capacity utilization
Encourage online pre-bookings
Boost direct bookings thanks to our intuitive, streamlined, fully-customizable and conversion-optimized ticket shop which embeds directly within your website
Single entry, day tickets, group tickets and vouchers can be set up and sold with just a couple clicks
Cross-sell related items or experiences within the ticket checkout
Connect directly to +50 marketing channels worldwide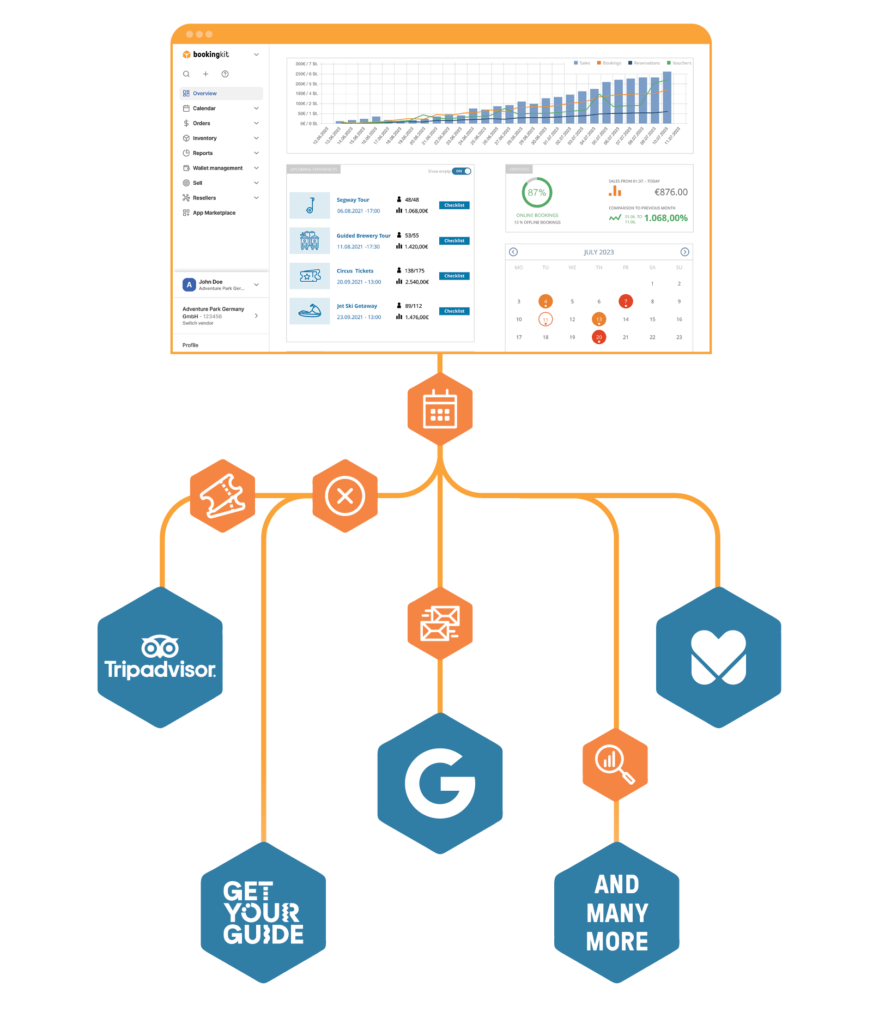 Centralised channel management
Manage all of your sales channels from one software
Think of bookingkit as the "CMS" for your experiences: you set up your experience description, images, availability, etc. and bookingkit pushes this information to all of your directly integrated OTAs and sales channels, keeping them up to date in real-time. 
Save time and manual effort in keeping your accounts updated

Manage bookings from all sales channels in your bookingkit account

Our dashboard will help you gain actionable insights on which channel is performing best, and help inform your quotas
Fully digitized reseller network
bookingkit reach: your B2B reseller network
Do hotels, tourism agencies, venues or other companies resell tickets for your attraction? If so, bookingkit reach digitizes these relationships, allowing your resellers to book online directly at your pre-agreed discounted rate.
All bookings are centralized in your bookingkit account

No need for manual bookings or double checking availability

Built-in search functionality
If not, then you should expand your sales network by connecting with interested resellers in your area thanks to our marketplace!