Benefits of Automatic Resource Management:
More choice for participants

Offer multiple variations of a single experience to boost sales

Automatic allocation of resources

When a ticket is booked, the allocated resource is automatically reduced

No error-prone, manual matching

Resource management works autonomously and reduces risk of manual errors.

No risk of overbooking

If all resources are in use, linked experiences can no longer be booked

Optimal utilization

Use a wider range of offers in conjunction with resource management to optimize your capacity utilization

Develop your offer further

Experiment with different resource combinations in order to create the perfect experience
bookingkit handles any type of resource
You have many resources and need to keep track of them? bookingkit's automated resource management is the best solution!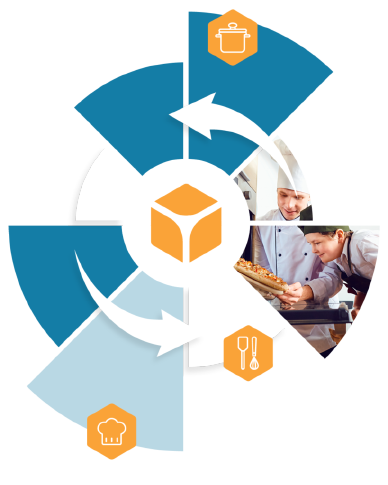 Freely define your resources and link them to the corresponding experiences.
An Escape Game operator can designate individual "rooms" and "game masters" as resources, while a Cooking School can designate cookery sets as their resource.
Regardless of the type of item in question, resource management makes it easier for you to manage by automatically allocating rooms, personnel, equipment, etc. You save time, energy and avoid any costly manual errors, while allowing you to diversify your offer even more!
Whatever floats your boat!
You offer boat tours and need to make sure that the right vehicle is available for each tour? bookingkit resource management will allow you to directly connect your offer to the availability of the boat, so that no cancellations or rectifications need to be issued last-minute!
Explore more bookingkit features
Explore more bookingkit features

Centralized Booking Calendar

One central booking calendar

Synchronized across all devices

Always updated in real-time

Gain a micro & macro view

See more >

Checkout Widget

Drive more bookings
Conversion-optimized
SEO-optimized
Simple on-page integration

See more >

IT Security & Service

German engineering

Internationally compliant

Highest availability & standards

Data security & encryption

See more >

Marketing Channels

All channels at your fingertips
Select your preferred channels
Centrally synchronize availabilities
Choose which experiences to promote

See more >

bookingkit reach

Digitize your reseller network

Free for resellers

Grow your customer base

No installation required

See more >

Email Automation

Full control over customer communication
Optimize processes via automated emails
Send GDPR-compliant email campaigns
Incentivize reviews & build customer loyalty

See more >