bookingkit's email automation is your central tool for service and sales:
Sending tickets to your customers

In case of a successful booking your customers will receive an information and their ticket

Pre-event reminders

Remind your customers in time of their booked experience

Notification of changes

Notify all attendees of any important last-minute changes or cancellations

Generate repeat sales

Sell souvenirs, incentivize repeat visits or promote vouchers after the experience

Promote customer loyalty

Use positive experiences and discounts via email to build customer loyalty

Incentivize reviews & referrals

Request feedback, collect reviews and encourage referrals
Full control over your customer communication
bookingkit gives you full control over all automated emails between you and your end customers.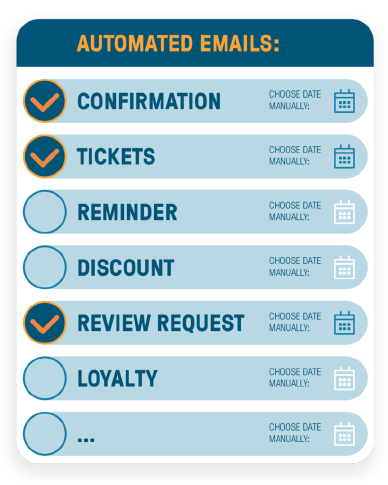 In your bookingkit, you can easily control how frequently and with what information your participants are contacted.
Standards include:
booking confirmations with ticket attachments
appointment reminders
change notifications
cancellations
review requests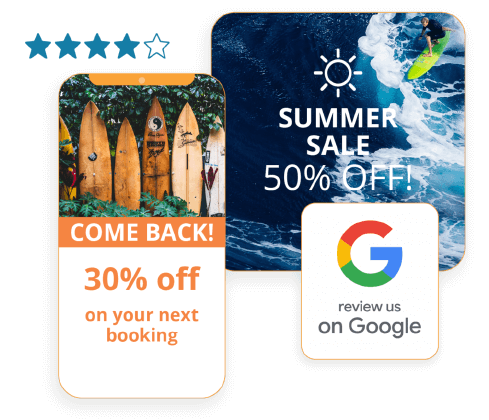 Aftersales as an important sales pillar
Aftersales emails allow you to contact your customers again, a designated period of time after an experience has taken place. 
This offers many opportunities to boost your sales both directly and indirectly. You determine the content and are therefore free to decide what to focus on: customer retention, promotions, discounts, or requesting feedback on the most popular review portals. No matter what you decide, you should make use of this important feature!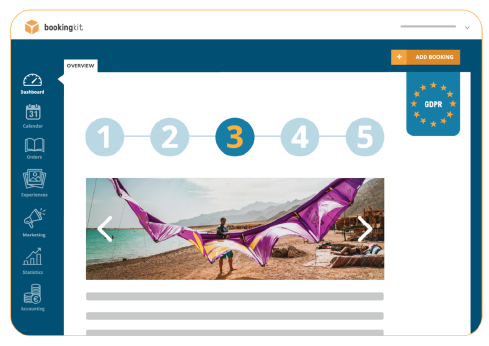 GDPR-compliant email campaign manager
Create a fully GDPR-compliant newsletter campaign with only a couple clicks from your customer area. Set this up in a matter of minutes thanks to our comprehensive templates for all seasons, occasions and promotion types, or customize the content based on your specific needs.
Benefits at a glance
100% GDPR compliant offers via newsletter to your customers

Campaigns created quickly and easily in 5 steps

Texts and design automatically stored for future reuse

Automatically maintained recipient lists

No additional email software needed

Included in every bookingkit package
Explore more bookingkit features
Explore more bookingkit features

Vouchers & Coupons

Instant cashflow

Easy setup & redemption

+20% revenue

More flexibility for your customers

See more >

IT Security & Service

German engineering

Internationally compliant

Highest availability & standards

Data security & encryption

See more >

Resource Management

Automatic resource allocation

Linked to available slots

Avoid overbooking

Diversify your offer

See more >

bookingkit Reach

Digitize your reseller network

Free for resellers

Grow your customer base

No installation required

See more >

Analysis & Optimization

All performance data at a glance

Make data-driven decisions

Effortlessly optimize capacity

Get the most out of your experiences

See more >

Centralized Booking Calendar

One central booking calendar

Synchronized across all devices

Always updated in real-time

Gain a micro & macro view

See more >

Marketing Channels

All channels at your fingertips

Select your preferred channels

Centrally synchronize availabilities 

Choose which experiences to promote

See more >