This is what our analysis dashboards offer:
All data at a glance

Quickly grasp the essential performance metrics of your business

Overview of bookings

Stay informed about the current status of your bookings at any time

Compare sales performance

Keep an eye on your best performing experiences, channels, payment methods, etc.

Identify top sales channels directly

Identify the most successful revenue generators for your offer at a glance

Revenue management tool

Get data-driven forecasts on the expected utilization of your capacity

Yield Management

Get suggestions on how best to optimize your performance and revenue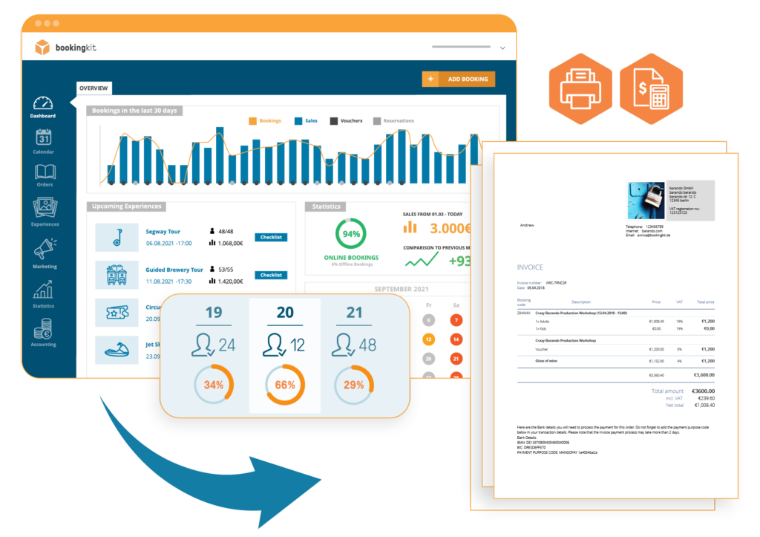 Understand your business performance
It's not always easy to understand at a glance how your business is performing at a certain moment or under certain conditions. With bookingkit you will be able to analyze your revenue and experience performance to learn more about its strengths and weaknesses. Utilization, distribution channels and revenue – find out more about how your business works and improve performance.
Everything under one roof and at a glance
On the home page, you'll find all the important information about your company at a glance, along with statistics on monthly sales, sales channel performance, all open and confirmed booking requests, a thumbnail overview of the calendar and your next activities, etc. so you can react quickly right upon login!
Accounting becomes a breeze
In the future, bookkeeping will practically take care of itself! bookingkit prepares all data clearly and you receive all necessary documents for you to simply forward to your tax agency. In addition, you can search for individual invoices, participants, bookings and vouchers in seconds.
Which sales channel is the most successful?
In your bookingkit you can see at a glance where your customers come from and which sales channel working the best for your business. Your own website? Bookings via phone? Sales portals like Viator or GetYourGuide.? bookingkit makes your business transparent and allows you to manage your capacities even better in the future.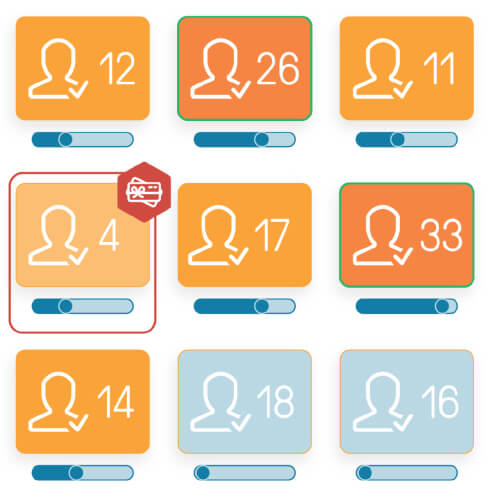 Peek into the future with bookingkit!
With our "Yield Management" function you can find out the expected occupancy and number of participants for all your experiences and appointments. Our unique algorithm which evaluates past and actual data automatically and in real-time grants you actionable insights which you can use to adjust your offers accordingly, and helps you decide whether to give last-minute discounts or optimize contingents with your marketing partners. 
This is the easiest way to optimize your revenue and profits! bookingkit is the first and only booking system for Tours, Activities & Attractions worldwide to include such a feature, which has been used as a proven winner within the aviation industry for decades.
Explore more bookingkit features
Explore more bookingkit features

Centralized Booking Calendar

One central booking calendar

Synchronized across all devices

Always updated in real-time

Gain a micro & macro view

See more >

Checkout Widget

Drive more bookings

Conversion-optimized

SEO-optimized

Simple on-page integration

See more >

Vouchers & Coupons

Instant cashflow

Easy setup & redemption

+20% revenue

More flexibility for your customers

See more >

IT Security & Service

German engineering

Internationally compliant

Highest availability & standards

Data security & encryption

See more >

Resource Management

Automatic resource allocation

Linked to available slots

Avoid overbooking

Diversify your offer

See more >

bookingkit Reach

Digitize your reseller network

Free for resellers

Grow your customer base

No installation required

See more >

Marketing Channels

All channels at your fingertips

Select your preferred channels

Centrally synchronize availabilities 

Choose which experiences to promote

See more >

Email Automation

Full control over customer communication

Optimize processes via automated emails

Send GDPR-compliant email campaigns

Incentivize reviews & build customer loyalty

See more >