Get started with your customizable ticket system today
Fast ticket shop software installation

Easy integration into any website even without prior development knowledge

24/7 ticket shop on your website

Fast, simple and secure booking process

Direct on-page booking and payment

No annoying pre-registration or forwarding required

Real-time updates

Availabilities, prices and special conditions are always automatically up-to-date

Multiple ticket types

Time slot tickets, group tickets, flexible tickets or vouchers for multiple price categories

Immediate access to earned revenue

Deposited in your account without any complicated terms or waiting periods
Our ticket shop software is ready for sales in minutes
With streamlined integration comes faster sales—meaning your customized ticket system is
ready to go, out of the box, in just a few minutes. No coding, full compatibility with your existing
systems, and a wealth of languages and currencies available – your event ticket system is ready for the
world.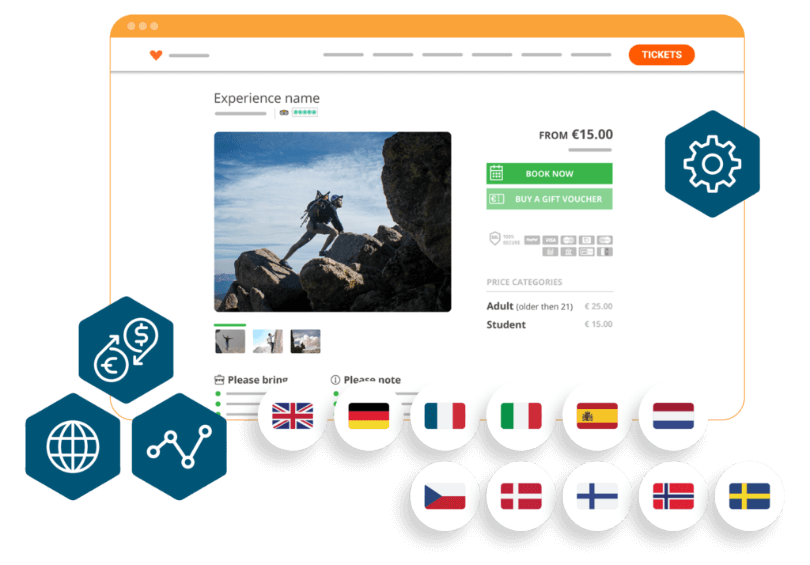 No coding knowledge required
Integrating our ticket shop system is quick and simple—with no programming knowledge required. You will find a short guide in your account overview, and in case you get stuck, our service team is here to help!
CMS-compatibility
bookingkit supports all popular page builders and CMS systems, like WordPress, Typo3, Joomla, Jimdo and many more.
Multiple languages supported
With bookingkit you can easily display your booking widget and experiences in multiple languages. Standard content like buttons etc. are already pre-translated.
Accepts various currencies
bookingkit supports payment in many different currencies, so no matter where your customers come from, they can enjoy a seamless website ticket shop experience.
Availabilities updated in real time 
As soon as you sell a ticket using our ticket system, the number of available places to purchase via your website or your sales channels is automatically adjusted—without any manual effort!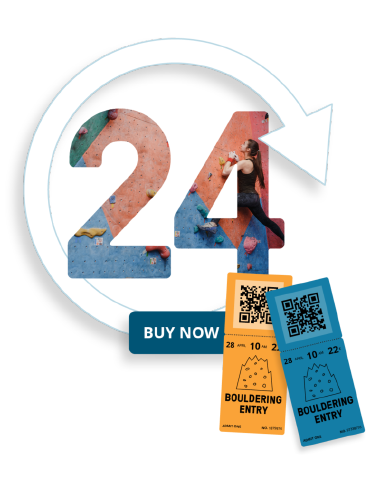 This means customers can use the ticket shop system to book experiences outside of office hours with no worries about overbooking!
In addition, all price changes, updates, new photos and texts or special conditions made in your bookingkit account will be instantly posted on your website or across your sales channels.
Our ticket shop software keeps everything 100% up to date from your central sales hub!
Drive more sales with our intuitive ticketing system
Automation and optimization are integral to our ticket system, with advanced tools to help you
make sales and drive traffic. Our checkout system features optimized booking flows with all major
payment methods, SEO tools and mobile-optimized design, plus automated email confirmations
alongside our advanced API for boundless customization!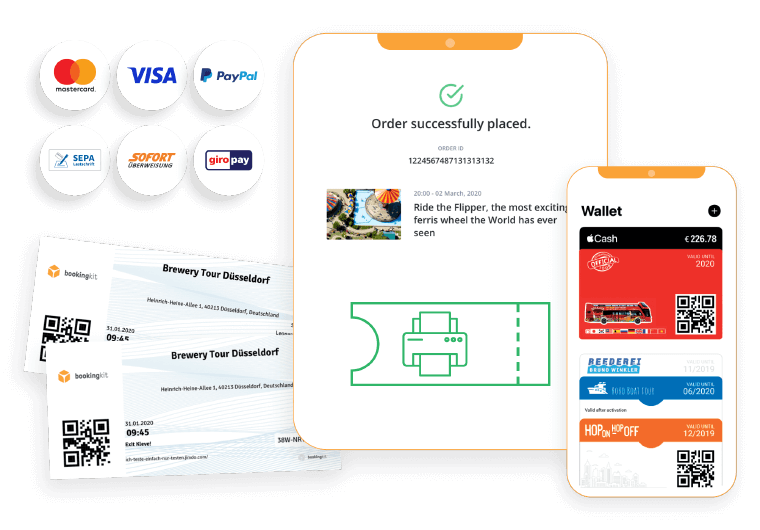 Conversion optimization
Our ticket shop system, widget, and the entire booking flow are optimized for conversion—using clear and transparent steps for tailor made integration. This ensures maximum booking rates and more sales for you.
All major payment options available
With bookingkit you can easily accept online payments and automate the payment process. Our solution includes direct debit, PayPal, credit card, instant bank transfer, vouchers and on-site cash payment.
Automated emailing
Directly after booking, all data gets transferred to your bookingkit account, while all important information as well as the PDF ticket will be emailed to your customers – automatically and without manual effort.
Mobile-optimized design
Fit for smartphone, tablet and desktop of any size: bookingkit is always technically up-to-date and perfectly tailored to all devices. This way you'll never lose a customer again due to booking difficulties, and it will ensure you even better visibility on Google search results!
Search engine optimization
Unlike other ticket shop software, we integrate the checkout process directly into your website. Not only do we generate SEO-optimized URLs, but also make sure that the content of the booking widget is crawlable and indexed appropriately by search engines, so your website reaps the traffic benefits!
More customization via our API
As a bookingkit customer you can use our well-documented API to build your own interface. This is especially great for website developers and agencies, who can easily create more complex websites based on our API – where the personalization options become truly endless.
Pair our ticket shop system with additional features:
Pair our ticket shop system with additional features:

Vouchers & Coupons

Drive more bookings

Conversion-optimized

SEO-optimized

Simple on-page integration

See more >

IT Security & Service

German engineering

Internationally compliant

Highest availability & standards

Data security & encryption

See more >

Resource Management

Automatic resource allocation

Linked to available slots

Avoid overbooking

Diversify your offer

See more >

bookingkit Reach

Digitize your reseller network

Free for resellers

Grow your customer base

No installation required

See more >

Centralized Booking Calendar

One central booking calendar

Synchronized across all devices

Always updated in real-time

Gain a micro & macro view

See more >

Marketing Channels

All channels at your fingertips

Select your preferred channels

Centrally synchronize availabilities 

Choose which experiences to promote

See more >

Email Automation

Full control over customer communication

Optimize processes via automated emails

Send GDPR-compliant email campaigns

Incentivize reviews & build customer loyalty

See more >