Increase your revenue with digital instalment payments
Tips & Advice
While in the past the most commonly used payment methods for online purchases were credit and debit cards, new payment options, such as digital wallets and instalment payment solution providers (BNPL), have emerged gradually in recent years.
In fact, data show, especially during and after the pandemic, the phenomenon of purchasing with instalment payments has experienced exponential growth globally, ranking among the top preferred payment methods among users.
Thanks to the switch from Mangopay to Stripe as sole payment provider, bookingkit provides the opportunity for vendors to benefit from all the major advantages of BNPL solutions. Indeed, Stripe features Klarna as one of their preferred payment options, and this is undoubtedly a source of strategic advantage for all operators, as we will explain in further detail in the following paragraphs.
Buy Now, Pay Later – Why instalment payment is so popular
The acronym BNPL stands for Buy Now, Pay Later which is a very flexible payment method as it divides the purchase into multiple equal payments to be paid at a later due date. It has a credit card-like functionality, but without interest, fees, or any registration requirements for the shopper.
This is the usual BNPL payment method checkout process:
Shoppers make a purchase on the seller's website and choose an instalment payment method (BNPL);
They are then redirected to the BNPL provider website (e.g., Klarna) and enter the required data;
The BNPL provider pays the total amount owed by the shopper to the seller in real time;
The shopper agrees to pay the total purchase back directly to the BNPL provider according to the agreed timeline and number of instalments;
The seller provides the service as normal.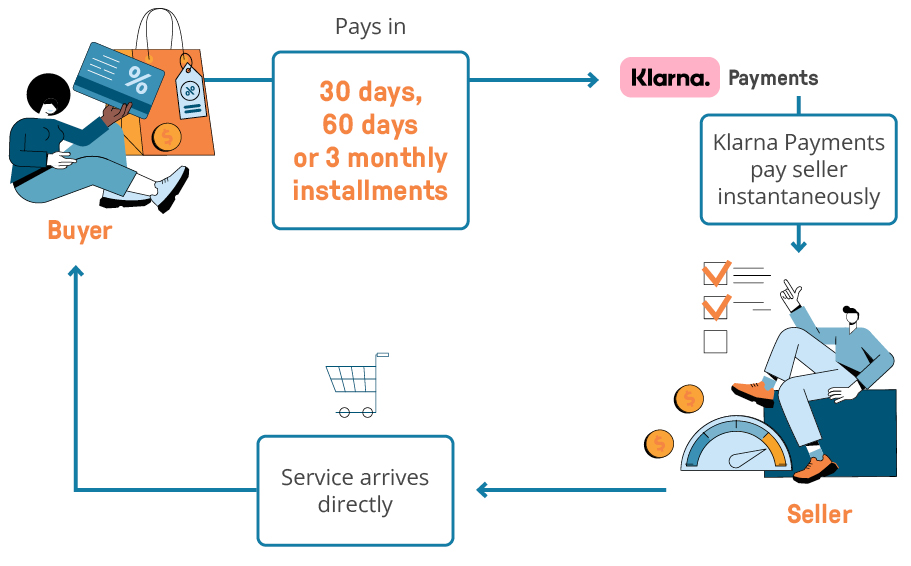 What statistics really prove and what is in it for end customers
A recent study conducted by GlobalData revealed that in the past two years alone, the value of transactions made through BNPL platforms has increased 3.5 times, and there are no signs that this is likely to change in the near future. In fact, it is expected to reach a total transaction value of $576 billion by 2026, as shown in the chart below.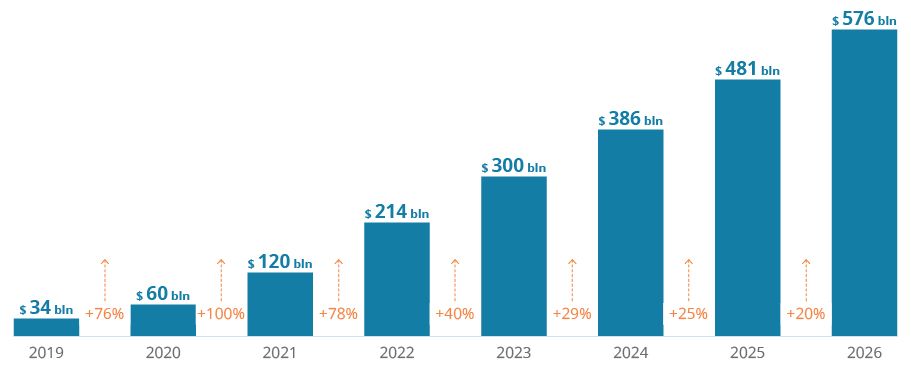 So, what makes these buy now, pay later offers so attractive to customers? Certainly, the fact that for shoppers they are very convenient, fast and flexible. Indeed, by offering a BNPL payment option, the shopper can book the service, activity, or attraction they want immediately and pay for it later according to the chosen timeline, interest free.

Only major perks for operators – without risk
Meanwhile, offering the possibility to make a deferred payment for booked activities, attractions or experiences provides an indisputable competitive advantage to industry operators.
The main benefits are listed below:
A better checkout experience for users as they can get what they want immediately and pay for it later;
Increased conversion rate in terms of cart conversion and average order value;
Increased customer retention rate in terms of purchase frequency;
Ability to reduce cart abandonment thanks to the availability of a finance option;
Guarantee of payment of the full amount in real time;
Seller protection, even in case of disputed payments;
Compliance with local regulations;
From Mangopay to Stripe: even more growth opportunities for your business
This is only relevant to you if you are already a bookingkit client.
Founded in 2010 in California, Stripe is a fully integrated suite of dozens of global payments products that supports well over 135 currencies and all major credit and debit cards, PayPal transfers, SEPA direct bank transfers, iDeal and Alipay.
Additionally, unlike Mangopay, Stripe also provides instalment or deferred payment solutions (BNPL) through Klarna, making it the most widely used payment platform in the world. The payment experience is smooth, reliable and tailored to the needs of individual businesses, thus enabling revenue optimization.
KLARNA Buy Now, Pay Later now available on bookingkit – What it is and how it works
Founded in 2005 in Sweden, Klarna is now one of Europe's largest banks and has 150 million consumers and more than 500,000 sellers in 45 key countries.The reason for its success? An easily usable and straightforward platform that provides customers several payment options at checkout; however, said options vary according to the shopper's billing address and transaction amount.
How does it work for the end customer?
End customers can choose how and when they want to pay for their purchases. To pay later with Klarna, they first need to choose Klarna as their preferred payment method at checkout and then complete the purchase.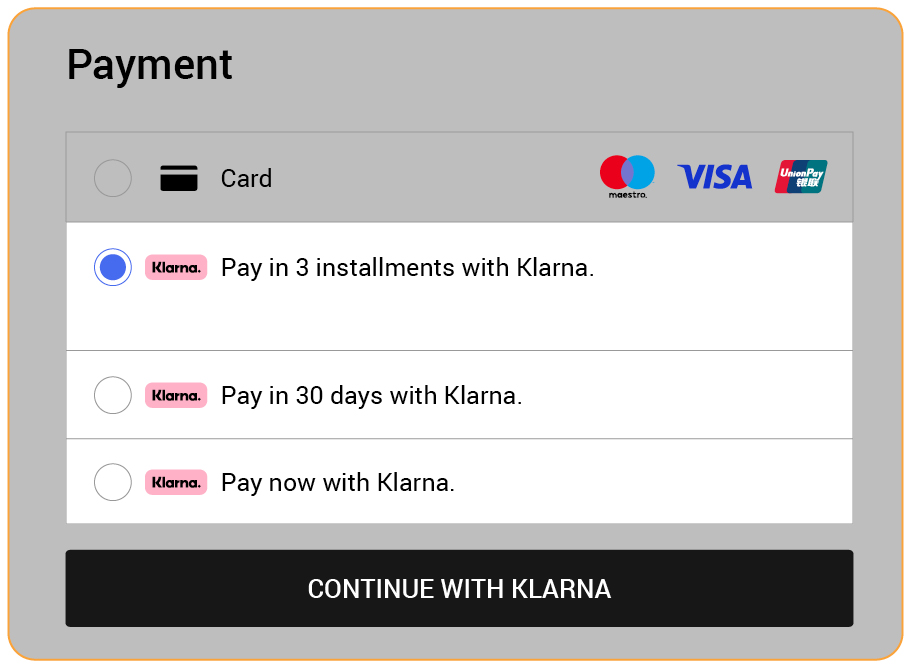 The main payment options offered by Klarna are as follows:
Pay in three instalments: spreading the payment in three instalments without interest;
Monthly instalments: payment due within 30 days;
Pay later: spreading the payment over several months (interest is usually charged);
Pay now: payment due immediately by direct debit from the chosen payment method.
For example, if they choose to pay in several instalments, the total amount of the purchase will be split in three equal tranches, each one with a specific due date, as shown in the image below.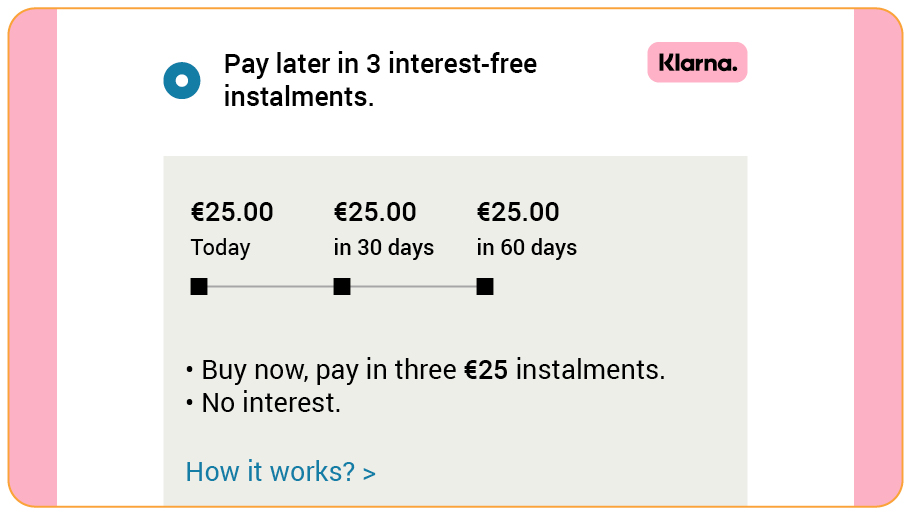 Moreover, Klarna will send regular payment reminders by email, text or push notification two days before the payment is due. Shoppers can also choose to delay the payment term by a further 14 days once per order, for an additional fee.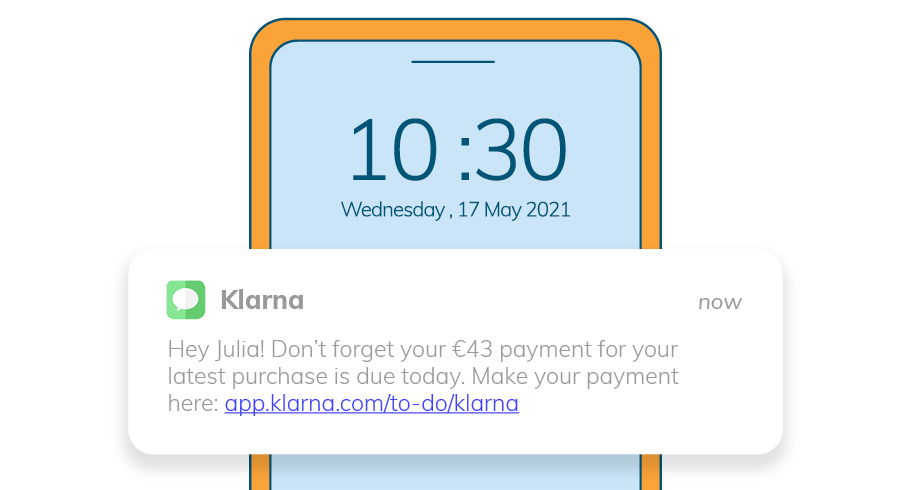 How does it work for the vendor?
Activating Klarna as a preferred payment option for your customers could not be easier. Just go to your bookingkit dashboard and follow the simple steps below:
Firstly, migrate from Mangopay to Stripe within the settings;
Go to the "Payment Options" page and click "Activate it" next to Klarna.
The benefits?
No additional online fees;
Money is received instantly;
Possibility of full and partial refunds.
Additionally, the platform supports full and partial refunds up to 180 days after payment completion, which are usually made to the shopper within 5-7 business days, subject to exceptions.
Sources
Want to learn more about how bookingkit can help you drive conversions and get more bookings on your website?
Then get your free demo now.