The ultimate POS softwares to double your revenue and easily sell tickets at your door
Product & Partners
Consumer purchasing behavior has undergone a change of course in recent years, with customers increasingly purchasing tickets mostly online in order to save time and avoid long queues at the venue. Yet, some of them are not that tech-savvy and thus prefer to buy tickets directly at the counter. However, highly efficient validating solutions that work in both cases are needed.
It is therefore necessary for operators of attractions, tours and activities to offer both online and offline purchasing options as well as to ensure a fast and smooth entrance experience for everyone, regardless of where the ticket has been purchased. How would this be possible? By means of a seamless integration between their booking software and what is called a POS system (Point-Of-Sale system).
How this could work, what you need to consider and which systems are already there – we have put together in this blogpost.
Table of contents
What does Point-Of-Sale mean?
It's the ability to sell tickets on site, directly at the counter. But that's not all…A Point of Sale (POS) is a combination of hardware and software that allows you to do more than just complete a transaction; it helps you manage all your business processes directly from one system, from inventory to reporting and employee management. Additionally, POS solutions facilitate the visitor management at the venue through convenient entry systems, either old school turnstiles or new generation digital POS. Say goodbye to long waiting times and pressure, especially in peak season!
According to the individual needs of your business, you need to decide what point of sales features you specifically want. Among these, increased efficiency, ease of use, and updated capacity are some of the most important ones to take into consideration.
How can a POS software be integrated into bookingkit?
As you may already know, bookingkit is revolutionizing the tourism and leisure industry across Europe by offering an integrated and omnichannel ticketing system specialized in booking and marketing tickets for attractions, tours and activities. But, we are not stopping there. We, indeed, believe that, in an increasingly digitized world, businesses like ours cannot refrain from continuously offering new solutions which can save time, efforts and money to our clients. That is the main reason why we are constantly working not only on the development of the best booking solution, but also on the fine-tuning of our App Marketplace, a platform where our clients can actively engage and network with other tool providers, including POS softwares, and thus benefit from a true end-to-end solution.
When it comes to daily operations, some of the main challenges that operators are constantly facing are as the following:
Ensured operational efficiency, which means quick availability synchronization between online bookings (either on the website or on marketing platforms, such as GetYourGuide, Viator, Headout, etc.) and offline sales;
Guaranteed on-site validation of tickets purchased online;
Smooth guest access at the venue.
Thanks to a reliable and state-of-the art integration between our ticketing system and major POS softwares, these functionalities are usually provided and can open up additional selling opportunities.
How hard is it to integrate a point-of-sale system with bookingkit?
We know how exhausting, time consuming and costly it can be to integrate a point-of-sale solution into third-party tools you are already using for your business; especially without the sufficient technical support and expertise.
But with bookingkit it could not be easier and more convenient! We fine-tuned our top-notch App Marketplace to allow an efficient and effortless integration and setup with some of the leading POS systems on the market with no extra tools required. All you have to do is login into your bookingkit account, activate the solution of your choice and follow the instructions provided in the dedicated help guides.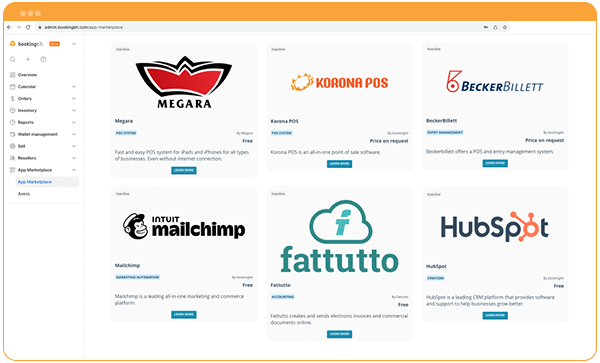 What are the biggest advantages of an integration between bookingkit and a POS software?
When you combine bookingkit with one of our partner Point of Sale systems, you can benefit from:
Quick updated capacity regardless of where the booking took place;
Smooth ticket scanning at the event through turnstiles or digital devices (both for printed out or digital tickets);
Easy access at the venue with no waiting time for guests;
Technical support: we provide you with detailed documentation as well as technical assistance to solve any glitches that may appear in your system.
Let's look in detail at some of the leading point of sale softwares available for your business in our App Marketplace…

Beckerbillett, a reliable POS solution for operators in Europe
As one of the leading ticketing companies in Germany, Beckerbillett offers many years of ticketing experience closely aligned to the needs of its customers.
Founded in Hamburg in 1947, the German company mostly serves medium and large businesses with the latest cash register systems, intelligent software solutions, and contactless visitor management.
bookingkit & Beckerbillet: easy door access control system through the turnstile
The integration between bookingkit and Beckerbillett on the one hand allows vendors to synchronize all bookings and availability from their bookingkit account to Beckerbillett, and on the other allows end customers to use Beckerbillett access systems.
Thanks to the Global API interface provided by Beckerbillett, operators can now say goodbye to complicated third-party systems integrations.
Main advantages of Beckerbillett point-of-sale solution:
Automatic synchronization of orders generated via bookingkit (widget, marketing channels, etc.), including appointments, as well as the bar codes required for access, directly into the Beckerbillet system;
Easy handling of different ticket types: no matter what type of tickets you want to offer, thanks to the cooperation with bookingkit and Beckerbillett, sale, validation and admission are no longer a problem (e.g. event tickets, day tickets or guest tickets);
Automatic synchronization of free appointments and remaining availability from the Beckerbillet system towards bookingkit;
Quick and convenient admission for your guests through automatic scanning machines. No need to purchase and handle additional access devices or scanners. Moreover, a transparent overview of tickets is kept in your bookingkit account;
Automatic synchronization of the validation in all connected systems, which means no double validation is required.
Megara, world's first iPad and iPhone POS software
Founded in 1999 in Berlin, Megara was the first iPad POS system in the world. Thanks to its stationary mini-server, it has 100% offline capability and offers extreme speed in the booking process, which makes it ideal for businesses of all sizes, regardless of the sector they operate in. Furthermore, it is intuitive and very easy to understand, even for less tech-savvy users.
bookingkit & Megara: mobile POS devices streamline waiting times at the door
Process transactions and manage guest check-in on the go with Megara innovative POS system that works on all Apple iOS devices. This allows faster checkouts and reduces wait times.
As was the case with Beckerbillett, also for Megara the powerful global API interface ensures a smooth data exchange between bookingkit and Megara POS system. Indeed, online tickets, on-site sales and transfers of all important data are automatically and instantly synchronized, without any margin of error. Also, order cancellations are synced from bookingkit to Megara.
Main advantages of Megara point-of-sale solution:
Quickly validate all tickets on all Apple iOS devices (iPad and iPhone);
Streamlined processes on site by syncing online and offline sales as well as entry management at the venue;
Automatic transfer and availability of ticket codes and all data of online bookings (either via website or resellers) in Megara;
Easily integrable with access systems such as barriers, turnstiles and lockers;
Availabilities, including payment information, are automatically updated in bookingkit with zero risk of being overbooked whenever a ticket is sold on site;
On-site payment of tickets booked online and automatic synchronization of data, including prices and additional information;
Easy scanning of all ticket codes provided by bookingkit at the venue with Megara admission scan devices.

Use case: 
Our client DIALOGMUSEUM, both a museum and a social enterprise, whose exhibition concept was first developed in Frankfurt am Main 30 years ago, is considered to be an outstanding example of social entrepreneurship. They, indeed, provide employment for blind or visually impaired people.
Thanks to the integration with Megara POS they can benefit from: 
Simplification of the whole infrastructure: now visitor access management is easier to handle (e.g. new pricing category, ticket scanning, etc.);
Several security servers that guarantee a steady access to the system under all circumstances: no down-time due to unstable connection;
All reports in one place;
Prompt Customer Engineering to overcome the biggest hurdles with technical solutions.

KORONA POS, the all-in-one cloud-based POS software
KORONA POS is a solution for small to medium-sized businesses that want to streamline their daily workflow and complete transactions faster. Founded in 1994 in Dresden, the company operates not only in Europe, but also in the USA and Canada.
How to match KORONA POS with bookingkit: we have already done part of the work for you
Unlike Beckerbillett and Megara, KORONA POS and bookingkit have an hybrid relationship; we, indeed, embedded a simplified bookingkit UI into the KORONA POS experience so that when users view existing orders or create orders they are doing it directly from bookingkit.
Main advantages of KORONA POS software:
Order and experience details synchronization: whenever a new order is created in KORONA POS using bookingkit embedded UI iframe, the order is automatically created in bookingkit and a new receipt is pushed to KORONA POS;
Instant update of status and payment details in bookingkit whenever a bookingkit order is paid for in KORONA POS;
Display of existing bookingkit orders and their respective payment status directly in KORONA POS;
Instant check-in of participants in bookingkit when a ticket is scanned in a KORONA POS device; visitors also receive experience details.
By integrating your booking solution with a POS software and fully utilizing your POS system's capabilities, you can optimize your operations, attract more customers, and ultimately increase revenue. Remember to regularly evaluate your performance and make adjustments as needed to stay competitive and meet your business goals.
Get in touch and discover the best POS solution for your business!
Want to learn more about how bookingkit can help you drive conversions and get more bookings on your website?
Then get your free demo now.