NEW: Connect with Businesses from Your Area and Sell More — with Sell-a-Friend!
Tips & Advice
Ever thought about combining your tours and activities with other products and services from your area to give customers more to choose from? This approach works a lot like shopping on Amazon. We all know how the story goes: you head online to purchase a single item you need and end up tossing a book and a few other things in your basket for good measure. With Amazon's purchase suggestions, it's hard not to.
The Sell-a-Friend approach works similarly by leveraging your customers' interest in your tours and activities to suggest other products and services to them while they're browsing your website. Not only is suggesting local tours and activities an easy way to generate more revenue, it also makes your services more attractive to customers.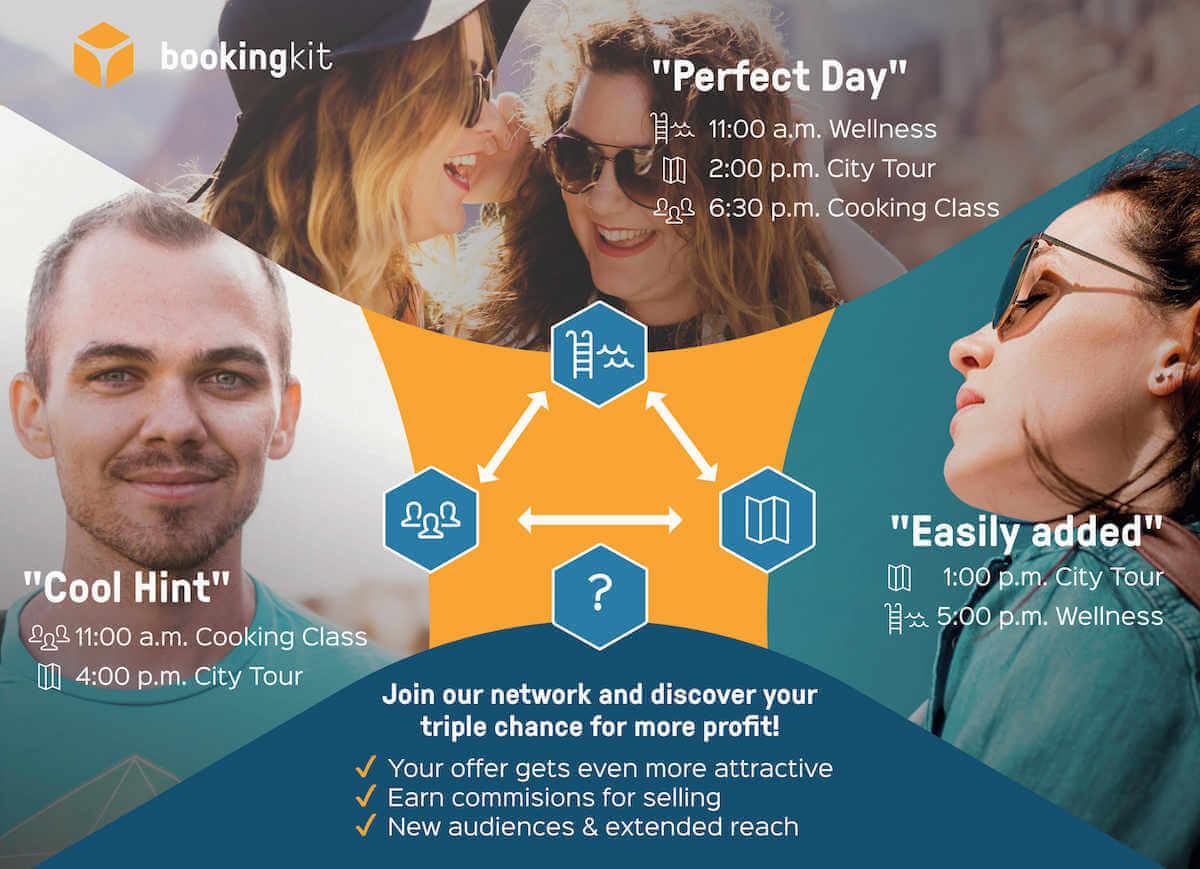 Another lucrative option is to have your tours and activities suggested by other operators and booked along with their events. And all this is now possible and easy to implement thanks to bookingkit's new partner program "Lokale Erlebnisse Bewerben". How about city tours combined with sightseeing flights? Escape rooms combined with cooking classes? Or stand-up paddling combined with scuba diving and a massage? No problem!
Become part of a diverse local network of complementary tours and activities and benefit from the mutual sale and promotion of other operators' services. By joining the bookingkit partner program, you'll be able to have interesting add-on products and services displayed directly on your websitewhich your customers can book along with your tours and activities. And you get to pocket the commission! At the same time, other partners on the network will be able to promote and sell your activitieson their websites and put you in touch with customers you may otherwise never have come into contact with.
And last but not least, you'll be doing something good for tourism in your area, which can have a big impact on your business in the long run.
The benefits:
Better service:add-on activities increase the value of your services
More revenue:easy commissions
More exposure:promote your tours and activities to more customers through third-party operators
Stronger local tourism:help keep your local scene active and thriving
More fun:meet and collaborate with other local operators
No added work:automatic processing, scheduling and billing
Available now for free
---
Selling other operators' tours and activities and earning commissions — here's how it works: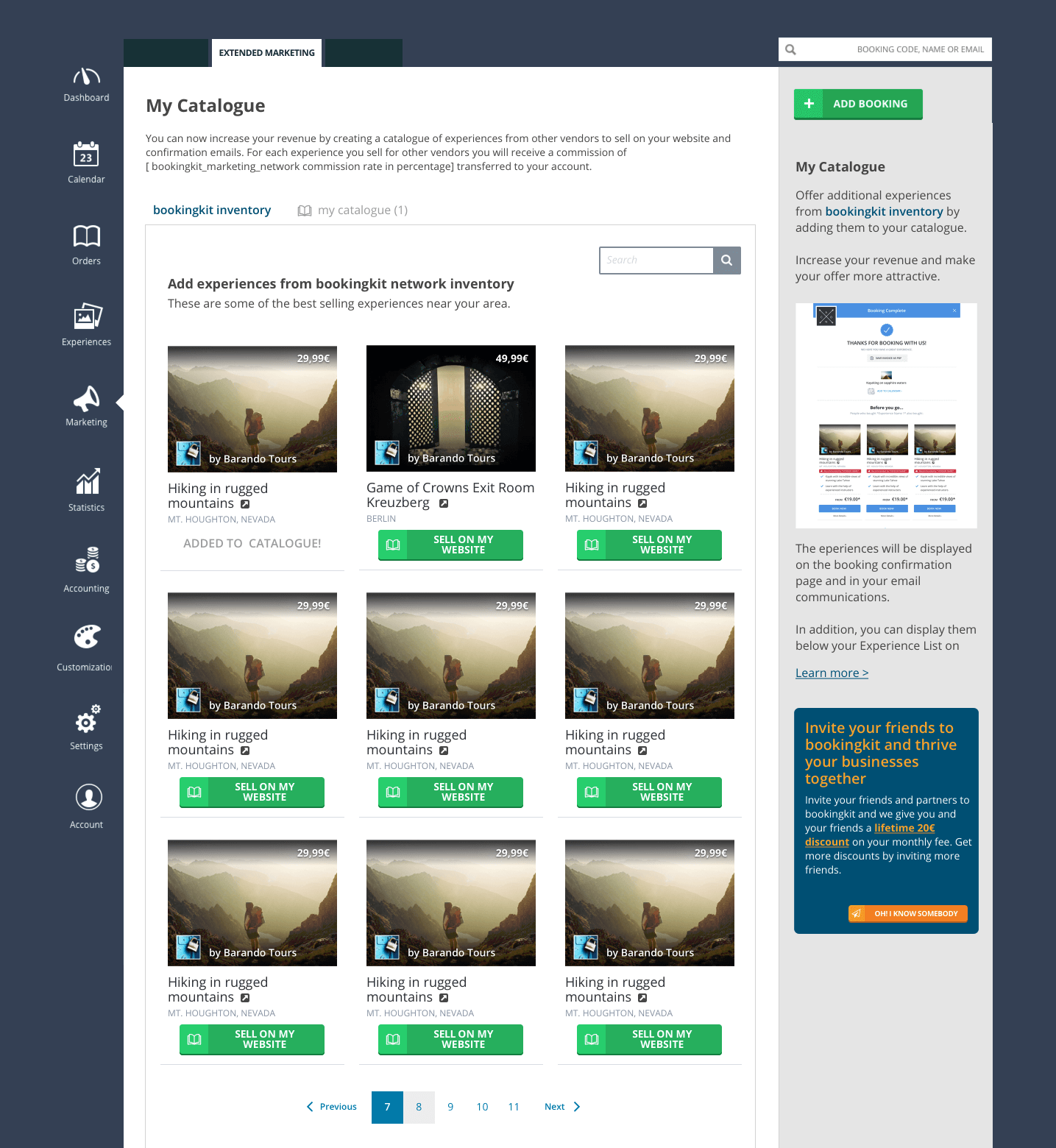 Under the Lokale Erlebnisse bewerben tab in the Vermarktung section, you can create your own custom catalog of add-on tours and activities from your area (note: only tours and activities offered within a 30-kilometer radius of your location are shown to you). You can search for specific types of activities and operators and add the ones you like to your list. And you can remove tours and activities from your list at any time.
START MAKING YOUR LIST OF ADD-ON TOURS AND ACTIVITIES NOW
Once you've made your list, the tours and activities will be displayed directly on your website under your own activity listings (e.g. everywhere bookingkit is integrated). The list will also be added to your confirmation page, booking summary and confirmation emails.
Attention:
This feature only works with the latest booking template (Widget 2.0) in bookingkit. Send us a message at service@bookingkit.de to upgrade to the new widget today.
---
Getting other operators to promote and sell your activities — here's how it works:
To make your tours and activities available for sale through other operators, all you have to do is activate the bookingkit marketing network. All your activities and events will then be added to a pool where operators from your area can see them and add them to their catalogs. Get more bookings in the blink of an eye and benefit from other operators' exposure!
ACTIVATE THE MARKETING NETWORK NOW
---
Automatic booking and processing through bookingkit
For customers on your website, there's no difference between booking a third-party operator's activity and booking one of your activities — everything goes right into the shopping basket. Processing, scheduling and invoicing — as well as assigning commissions — is all handled by bookingkit. There's no need to mess with additional contracts, negotiations or tedious invoicing. Simply promote and sell!
IMPORTANT:
If you're already a part of our marketing network, you're already well on your way towards generating more revenue for your business. Your tours and activities are now available to be promoted and sold by operators in your area. If you do not wish to take advantage of this additional source of income, you can leave the network here.
Want to learn more about how bookingkit can help you drive conversions and get more bookings on your website?
Then get your free demo now.