6 simple tips: How to increase bookings for Halloween
Tips & Advice
Halloween is one of the oldest festivals that still exists. Even after more than 1000 years the spooky night has lost nothing of its fascination. On the contrary, it has been growing stronger in popularity. In fact, from Europe to the United States, it is undeniable that Halloween spending is going up. In the US, Americans spent over $9 billion on Halloween, having reached an average of 100 U.S. dollars per person in 2021. In the same year, in the UK, for instance, Halloween spending was up to 600 million British pounds.
What does this mean for your business? More opportunities to increase sales and offer customized experiences! So, let's see together how to increase bookings for Halloween with 6 simple strategies, shall we?
1. Use the opportunity to address your regular customers
Did you know that acquiring a new customer can cost five times more than retaining an existing customer? That's right! So, let's focus on nurturing the relationships with your existing clients by offering them Halloween-themed offers and discounts. Then, promote these deals in multiple communication channels, from flyers to newsletters and social media. Truly spooky would be not taking this chance to increase bookings for Halloween.
2. Boost your bookings with vouchers and discounts
Speaking of increasing bookings, who does not love a voucher?
As we know, Halloween is a celebration time where families and friends wish to create memorable nights and enjoy unique experiences. Thus, make sure you offer your customers Halloween customized vouchers that help them make plans for the scariest night of the year. While parents may look for vouchers that are more family-oriented, friends may look for group discounts, and couples may even look for a spooky yet romantic activity. So, go crazy about the personalization of these vouchers.
Moreover, remember your clients that Halloween does not always have to be the same hocus-pocus, around trick-or-treating in the neighborhood or going to the same old house party. It can instead be a themed night for doing different activities such as a going on night city tour, visiting a haunted house visit, or taking a themed culinary class. We will give you practical ideas and examples of activities you can provide on Halloween in a second.
Nevertheless, regardless of the type of experience you offer, the success key for your Halloween vouchers is to start promoting them in advance, creating buzz and excitement beforehand. This way, you will also anticipate the profitability of this time of the year, foreseeing its revenue and expenses, ensuring good time and resource management, and providing a smooth and well-run experience. 

Bonus tip: Remember to tailor-make your vouchers' design according to the season (found here how) and to best promote them both online and offline. With bookingkit, creating, promoting, and selling your vouchers is a piece of cake (or should we say pumpcake?). Just book a free demo with us to further understand how vouchers can help to increase bookings for Halloween!

3. Draw attention with a dedicated Halloween look
It's Halloween, so do not forget to bring a spooky atmosphere to your business, starting from your communication channels to the experiences you provide.
On your website, points-of-sale, and social media, use Halloween-style designs to increase your audience's interest. While classics such as pumpkins, witch hats, and bats are always safe options, you can also aim at edgier looks by sharing pictures of your company's decorations, your employees' best costumes, or your scariest attractions. These will make it obvious that you are celebrating the season and will increase the curiosity to check your offers, thus increasing your bookings for Halloween. 
When it comes to the activities you offer, remember to add spooky touches to them. Simple Halloween decorations are again an option. But, you can also go for something a bit more creative, such as ending your activity with a campfire, sharing horror stories, or just offering candy to the kids and a bloody Mary to the parents. Fortunately, with bookingkit you can easily add products automatically to your booking, making the experience more season-tailored, and ultimately increasing bookings for Halloween.
4. Create spooky experiences
You have the season discounts and vouchers ready, and you even gave your business a spooky touch (did you go for the bloody Mary option?)! Now, think bigger and go the extra mile: create a true Halloween experience!
You may be thinking "oh, my business has nothing to do with Halloween". Not so fast! Once again, it all comes down to creativity. Let us give you some food for thought here. Do you own an amusement park? Then, highlight your haunted house attraction. Or maybe you manage a zoo? Focus on bats, snakes, and spiders. Are you a culinary experiences provider? Why not share pumpkin recipes?
We bet the creative ideas are starting to pop up in your head! So, before jumping to the next tip, let us tell you about some of the most interesting Halloween experiences in the market.
Dungeon Berlin
Dungeon Berlin are true proven horror experts! As they provide city tours, they take advantage of the Halloween season to show their clients the scariest places in the city and hear all about the eerie but true stories.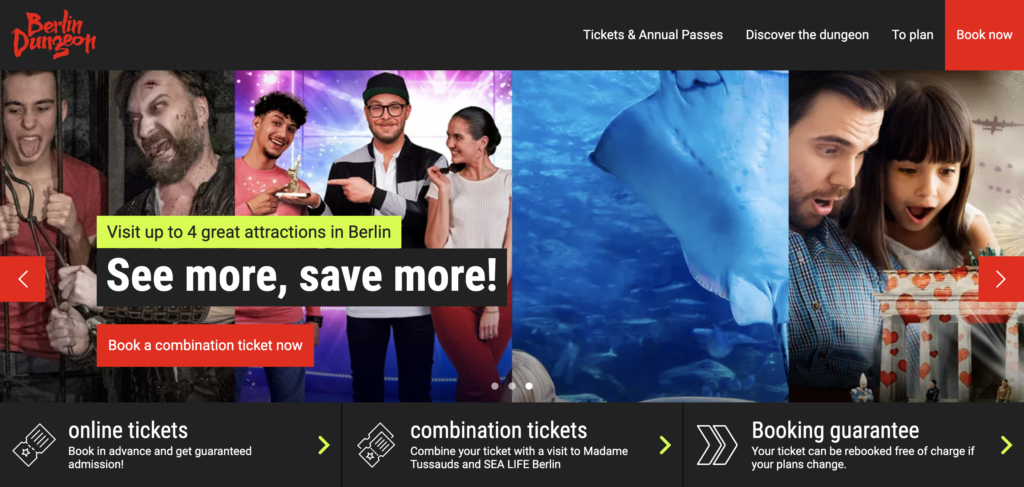 Exit Games Stuttgart
Another interesting case is the one by Exit Games Stuttgart. This Escape Room business really wants to play a game during the Halloween season. In fact, the scariest night of the year is all about a bloody series of murders and the search for the culprit. Besides real actors, surprises, and additional puzzles, there is also a welcome drink.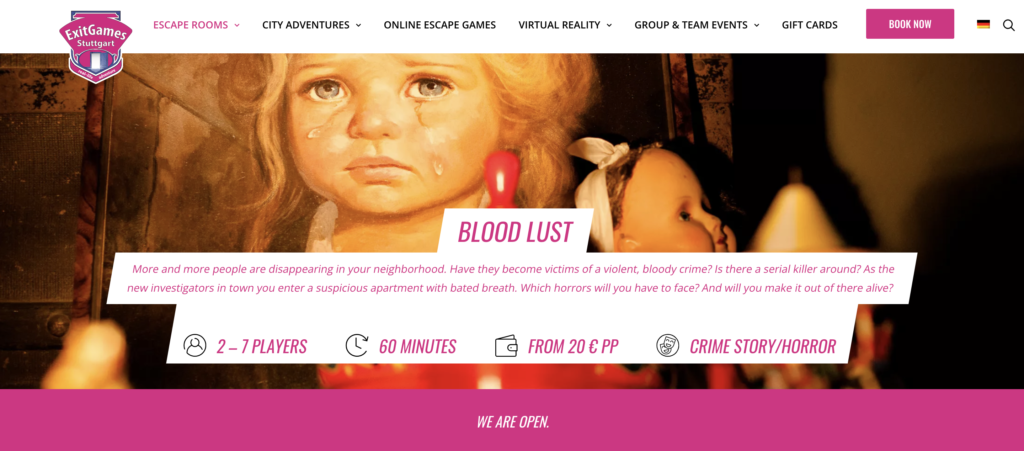 Movie Park 
And finally, Movie Park never misses the opportunity to create a whole festival for Halloween. The organizers rely on annually changing attractions and current highlights. This way, they ensure that even customers who have already participated in the past book the event.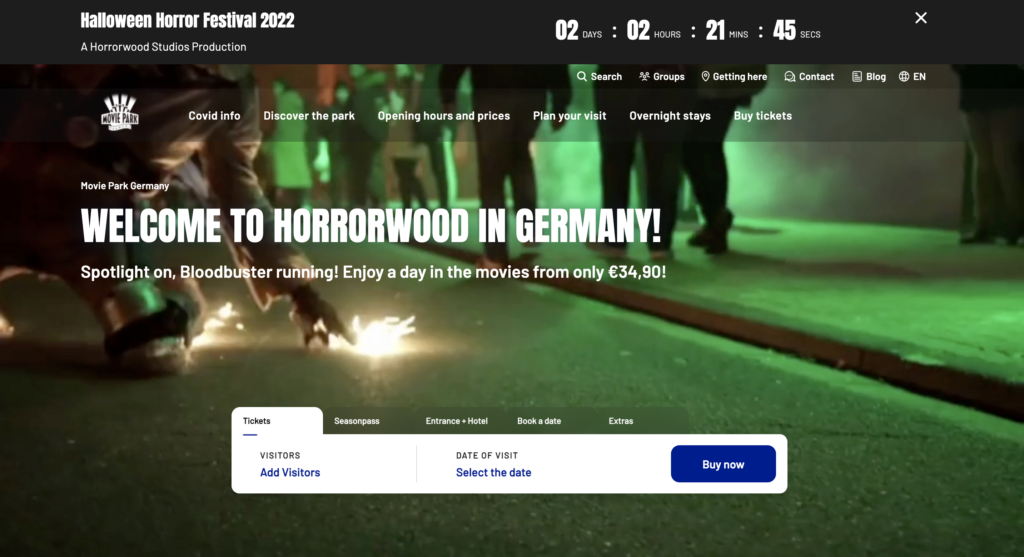 5. Bet on new marketing partners
During the scariest night of the year, you will not want to be alone! In fact, the Halloween season is the perfect opportunity to take a good look at your activated marketing partners, and consider expanding them. You will surely find that some partners have very relevant Halloween-specific offers that will help you boost your sales. Luckily, with bookingkit, you can control exactly which contingents you sell where, adding partners with just a click. So, do not miss this time of the year to strengthen your network and try new marketing partners like GetYourGuide or Jollydays.
6. Leverage the Halloween traditions with references and testimonials
Have you been providing Halloween-related experiences for some time now? Great, you are already one step ahead! Pull out Halloween photos from past years and ask your customers for references and testimonials of their last ​​Allhallows Eve with you! This way, you can build even more credibility, trust, and excitement, and ultimately generate more buzz and sales. Anticipate future Halloweens by taking more photos and videos, and asking for even more reviews this year!
Start today by putting these tips into action! At bookingkit, we are thrilled to give you a demo on how to increase bookings for Halloween. Schedule it for free!

Want to learn more about how bookingkit can help you drive conversions and get more bookings on your website?
Then get your free demo now.